What's New
Program For Thursday, September 14, 2017:
"Micro-Invasive Glaucoma Surgery - MIGS - What Does the Data Tell Us?"
Quang Nguyen, M.D.
Associate Head, Division of Ophthalmology
Director, Glaucoma Service
Board Member of Medical Advisory Committee
Scripps Clinic
The Promenade & Gardens by Turnip Rose
1570 Scenic Avenue
Costa Mesa, CA 92626
Schedule Of Events
The Executive Committee is to convene at 6:00 p.m.
No Host Bar & Hors d'Oeuvres
Social Time and Exhibits 6:30 p.m.
Dinner 7:15 p.m.
Lecture 7:45 p.m.
Support for this evening's meeting provided by Glaukos
RSVP to donnamcpride@yahoo.com or (714) 655-9300
Dinner Fees: Non-OCSO Members $60; Fellows $30
---
Fall Social & Fundraiser
Sunday, September 17th at Noon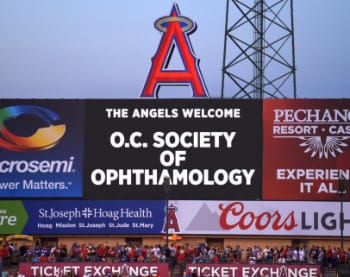 It's time for Angels Baseball and our 2017 social and fundraiser! Enjoy traditional ballpark food, cocktails and a great view of the Angels vs Texas Rangers game from our Club Level Suites!
Proceeds to benefit the Braille Institute
$100 per ticket. Purchase tickets through the OCSO PayPal link in the sidebar of the website.
Please RSVP to Donna McPride at 714-655-9300 or donnamcpride@yahoo.com